PHOTO BOOK IDEAS FOR MOM
As I write this post, my little guy is taking a morning nap. He's not always the greatest napper and his nighttime sleep hours are less than average. I was quite spoiled with Photo Book Boy (my eldest). He slept 12 hours straight at about 10 weeks old and he's still a good sleeper. But by some miracle today, little guy's nap is currently two hours, 18 minutes and running. That means mommy can work on this roundup of Mother's Day photo book ideas! Yea baby!
Mother's Day is May 8th! You've got about a month to get something special together! I love to survey the photo book companies and see what new or relevant book themes are available. Here's some of the photo book templates that would make a great gift for mom! You may not find these templates under a traditional heading "Mother's Day", be sure to check out "Family", "Baby", "Kids" and "Year in Review". Clicking on the links or image will take you to the company's site with that template. Also be sure to check our photo deals page for the best and latest Mother's Day promos!
#1. Baby Book for New Moms
The first Mother's Day for a new mom is one of the most special. Any mother would love a gift of photos of her little one. She may not have had the chance to put together one for herself, especially in the early days of sleeplessness. Just imagine how happy she'll be to open this present! Grab a bunch of snaps off your phone and drag and drop into one of these ready made professionally designed books!
Another great idea for a new mom is a book documenting her journey to motherhood. Pregnancy journals are a great way to get those baby bump photos on display. Check out my pregnancy journal here. I especially love seeing all the bump photos in a progression like this template below. Cute date captions too!
A photo book of mom's baby shower is another great idea. What I like about picking a particular event is that it's often easier to go through photos of a single day than to wade through photos spanning several months or years. It's much easier if you find yourself crunched for time.
#2. Family Cookbook
Mom's food is the best isn't it? Don't lose those cherished family recipes – make sure to collect them for future generations. Turn your Mom's lovingly thumbed through recipe cards (especially the ones she got from Grandma) into a photo book. Gather recipes and photos from family and friends and you'll probably have a gift everyone will want a copy of! (I love this idea for Christmas gifts by the way, but let's not get ahead of ourselves). Combine with family photos past and present and you've got an instant hit.
#3. Family History
Family history books can start with mom's story – her childhood, schooling, marriage and children, or you can go higher up the tree and start with mom's parents or grandparents. Go back as far as you can get! I especially love the family tree layouts. It's fun to see the connections and resemblances.
#4. Pick An Event
As I mentioned above, don't let your hesitation of going through a mass of photos discourage you from making a book. One of the biggest hurdles I find for most folks who haven't made a photo book before is they feel overwhelmed with all of the photos they've amassed. If this will be your first time making a photo book or you are short on time (who isn't?), start small. Focus on a single event and choose photos from that smaller subset for an easier task. Easter, Spring Break, family reunion or family vacation are possible topics. These themes are more photo focused and let the pictures tell the story. Shutterfly recently added Disney themed books to their product line.
#5. Year in Review
2015 is worth remembering! Pick some of the highlights from each month and put them in a book. These themes are really good at guiding you and giving you prompts for your layouts.
#6. It's All About the Grandkids

Don't forget about grandma! It's a known fact, there's nothing a grandma loves more than photos of her grandkids.
#7. Kids' Artwork
Get those tiny Picassos, Kahlos, Van Goghs and Cassats' artwork into a lovely photo book. We know we can't keep every piece of artwork that comes home daily, but why not snap a photo of it and put it into book form for Mom? I think the little ones will get a kick of this one as well.
MyPublisher isn't big on themes, but they make a nice clean photo book which would be well suited to a streamlined look that focuses on the artwork. Below are some other cute templates. I haven't done one of these books yet, but this one is definitely on my list.
#8. Mother's Day Themes

Of course you can't go wrong with one of the many Mother's Day themes available on many sites. These themes are all designed to give you a professional looking product with a minimum of effort. Just upload your photos and drag and drop. For those that want to do some tweaking, most if not all of them allow you to make edits to layouts as you please. Best of both worlds!
Other Custom Gift Ideas for Mom
I am a lover of all things photo book, but I do realize there are other customized gift options you can make for Mom!
Calendars
are a big favorite in my family, and nowadays since you can start your calendar on any month you choose, they can be given year round. You'll usually find some great deals on calendars this time of year too, so that can be an added bonus.
Canvas prints also make for an awesome gift. If you're finding time is tight, making a single canvas is quicker to make than a book and with all the canvas deals out there, you're bound to find a deal. Check out all the canvas groupon deals here!
Custom pillows can also make for a unique gift. Perhaps a collage of the grandkids, a photo of Fido or a her monogram may be just right for mom.
Custom magnets are my latest fun find. I recently bought 2 big magnetic boards for our mudroom to hold all those miscellaneous school papers, family snapshots and those fun photobooth strips that Photo Book Boy loves to get whenever he sees one of those machines. My concern was that small magnets could be dangerous for his little brother who is quickly becoming mobile. That's not a problem with these 2 x 2 inch flat photo magnets. Not that these couldn't make their way into a little one's mouth if I weren't looking, but they are big enough and much safer than the typical round magnets. Plus they are adorable! These are from Shutterfly.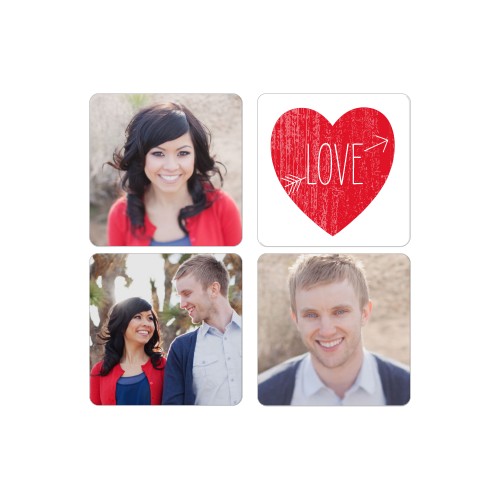 Custom Stationery is a chic option. Because so much of our communication is online now, the written letter or note stands out. Give mom her own personalized set.
______________
Mother's Day Photo Book Deals!
Mother's Day is a big time of year for custom photo gifts and the companies are pulling all the stops to help you get brownie points with Mom. 40%, 50% off are typical deals right now. With photo books starting typically around $12.00 for softcover books, at 40 to 50% off, that makes for a very affordable gift. Even cheaper than Mother's Day brunch! Don't forget to check out all the Mother's Day Deals on the Coupons & Deals page! I'll be updating that page as new deals pop up!
The best way to not miss any deals is to stay in touch!
Subscribe to my blog via RSS feed
Follow me on Twitter
"Like" me on Facebook
or subscribe to my e-mail newsletter (look for the light blue box at right to enter your e-mail address!)
Want to know more before you buy? Click here for all Photo Book Company REVIEWS!
The post above contains affiliate links. If you click from my site and make a purchase, I may receive a referral fee. As always I give my honest opinion on these products regardless of affiliation.